Hi Maureen J here,
I have been using Essential Oils for 2 to 3 yrs now and have found them really great. I use them for Health and around the Home.  I also use Essential Oils Orally, and for making a Tea which I will give you the recipe for.  doTERRA Essential Oils has become a place in my Home. I use it for Fresh-Air sprays and body sprays. Plus it can heal different sicknesses. Which is great for the whole Family.
Here is a Tea recipe that I have enjoyed using doTERRA  Essential Oils.
Put into 1/2 cup of boiling water
1 drop essential oil Ginger
2 drops essential oil wild orange
1 drop essential oil Cardamon
Stir and add the rest of boiling water to fill the cup
Then Drink like a normal cup of tea.
Recipe made by a representative of doTERRA Essential Oils
Join as a member to get discounts. $35.00AU
Essential Oil Ginger          Retail $89.33     Wholesale $67.00
Saving  $ 22.33
Essential Oil Wild Orange  Retail $18.67    Wholesale $14.00
Saving $ 4.67
Essential Oil Cardamon   Retail $ 54.00    Wholesale  $ 40.50
Saving $13.50
Any other questions message me at
maureenjtransformational@gmail.com
https://www.mydoterra.com/mjtransformational/#/
Copy and Paste to your URL.
News For The Week
Hi Everyone,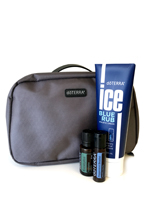 Fathers Day Kit Contains an Ice Blue Rub, Eucalyptus 15ml essential oil, and Peppermint beadlets in a handy doTERRA branded case
Retail $86.00             Member $65.00